Moe's Story
Kaitlyn "Moe" Rosensteel was a daughter, sister, granddaughter, niece, family and friend. Someone we all gravitated to. We gravitated to her because she cared, smiled and made you laugh with her quick sarcastic wit. The ideas were always rolling in her head about way things should look, what new type of shoes she was going to get or where were we going next.
Kaitlyn became Moe one fateful day when she was around 4 years old. Her mother was trying to cut her bangs and, as Shelley's side of the story goes, Kaitlyn moved. She had a bob haircut and now these curved bangs. From that point on, Kaitlyn was Moe. No matter who didn't want to call her Moe, eventually they did so, because it fit.
At some points while Moe was younger and we would talk about Kaitlyn, people would ask if we had another daughter. No, that is just Moe's real name. People just assumed her name was Maureen or Morgan, but no, her dad just nicknamed her after one of the Three Stooges with a bad haircut.
The name Moe became who she was, her personality and creativity. The wry smile she would get when something passed through her mind that seemed fun, awesome or involved a friend or a family member to go do something unusual just to make her laugh. For her father, Ed, she was his partner in crime. She was willing to do goofy things with him just to laugh. The dance videos her sister Keli (kay-lee) — yeah, we confuse people with our oldest daughter's name too — and her friends would do or the stunts they would pull.
Help Us Honor Moe and Preserve Her Spirit
All proceeds go to help recognize and support female soccer student athletes.
What everyone knows about Moe is soccer. Just like most girls growing up in North Huntingdon, PA, she played soccer. Her big sister played soccer; her older cousins played soccer. It was something she loved from the beginning.
Meet Moe's Family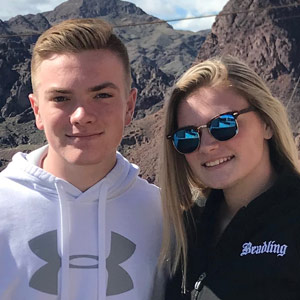 Grief
by Ed Rosensteel − May 29, 2021
It has been almost two years ago since we lost Moe and her friend Brendan. Some days it seems like I am there in that moment, lost, still trying to find answers; and other days, it seems distant when you realize time stops for no one and how much she has missed. The whole pandemic was here and gone and she has been gone longer. I hear people saying that they cannot stand being locked up in their house. I would have given anything to have been stuck at home and have her home with us while she should have been online for school, watching Netflix, shopping for toilet paper and cases of water. Another family vacation come and gone, but not the same without her.
Moe Rosensteel Most Outstanding Player Award
The award is given annually to a Western PA, high school student athlete whose play, leadership and passion for the game emulates that of the award's namesake, Moe.
Kaitlyn "Moe" Rosensteel Scholarship
The Foundation awards a female soccer player who will be advancing into college to further her academic excellence while still playing the game she loves.
Get Involved
Through various events, the Foundation fundraises to support and provide opportunities for student athletes to perform and play the game they love. The Foundation always can use volunteers.